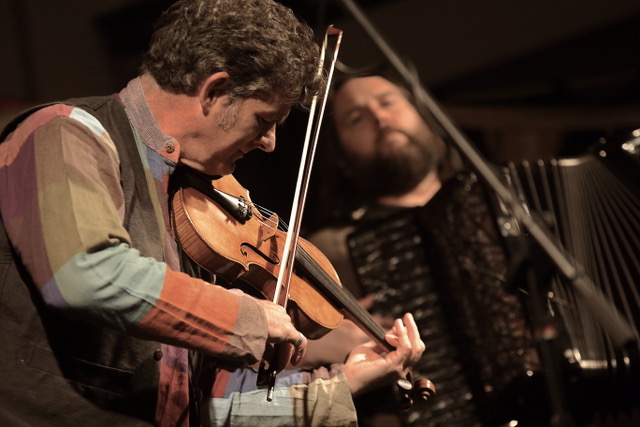 Magical in-the-moment music from a virtuoso duo.
'Free-flowing, ambitious and fiercely creative'. The Strad.
Profound and eloquent, epic, haunting and dramatic, The Ciderhouse Rebellion sees master musicians Adam Summerhayes and Murray Grainger combine to produce incredible tapestries of sound.
The pair specialise in creating music in the moment, based on traditional tunes or their own compositions – often springing from a single note, key, time signature or emotion. It's this unusually improvisatory focus that is uniquely magical. Their quest is to create music with no conscious thought between conception and playing – always searching for the unexpected and the possibility to create a deep sonic narrative that transports the audience.
Both Adam (violin) and Murray (accordion) are recognised virtuoso musicians in their own right, touring the world as professional artists. Although the pair only started working together in 2020, they have already released 4 celebrated albums, won Arts Council support, been featured on Folk on Foot, scored a BBC Radio 4 play and played significant festivals across the UK and Europe.
As well as their duo tours, and The Haar commitments, Adam and Murray have 3 Ciderhouse projects on the go – Cider With Kirsty, Cider With Molly and Cider With Jessie (formerly known as Words Of A Fiddler's Daughter).
'Gorgeous stuff' – BBC Radio 3
'Compelling, exciting and utterly original' – Phil Beer (Show of Hands)
'Beautiful' – Songlines
Festivals played: Between The Trees, Beardy Folk, Costa Del Folk, Settle Stories, Purbeck Valley, Cambridge Folk, Summer By The River.
National awards won: 1. Albums released: 4. Youtube views: 11k.