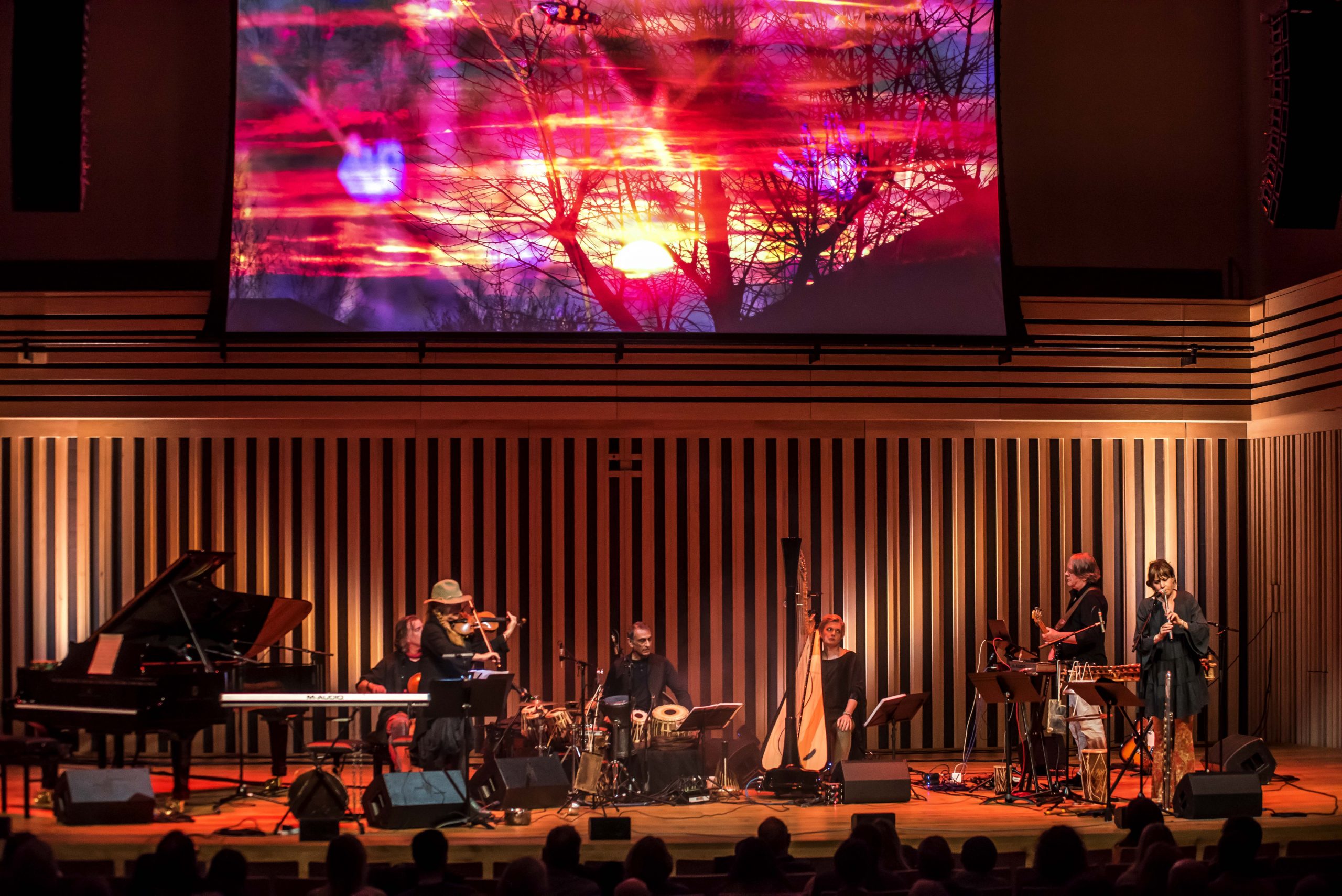 Lucky enough to have been working with flautist Eliza Marshall for over seven months now, From The Whitehouse sent Matt Rochford to manage the Freedom To Roam Spring Tour as it wound its way through England and Wales. These are some of his reflections after landing back in Devon after dates in Bury St Edmunds, Aberystwyth, Manchester, Leeds and Bristol via rehearsals in Malvern.
Everything about Freedom To Roam is woven together with love, compassion and the wish to live in a better world where responses are governed by empathy, hope and the recognition that we are all connected. Having worked on some of the PR and marketing ahead of the tour and having incredible conversations with Eliza along the way I had some idea of what this multi-faceted project was about. However, it's when you think you know something that you are most likely to miss important subtleties – and it was only when I watched the accompanying tour documentary 'Connected' (about two weeks before the tour) that I really 'got' what this project was getting at and how powerful it could be.
Going on tour is always a step into the unknown. Each venue is different, each town, hotel and group of people unique. I remembered my friend Ffion's blog about touring. And my experience of touring when I played in Jo-Beth Young's band. It's vulnerable making, can bring many highs and you always know it will change you in some way.
As I sat at the back of the Apex, a town centre, purpose-built arts centre in Bury St Edmunds and witnessed Eliza's opening speech I could feel how well crafted the whole Freedom To Roam experience was going to be. It's hard to encapsulate a project that brings together so many strands. Climate change, animal welfare, our rights to access nature, empathising more fully with displaced peoples, mental health, the state of our rivers, rewilding. And what's this got to do with music? We tend to think in linear, blocky, compartmentalised ways, don't we? But life isn't like that. It's complex, things overlap, it's messy, most of it is beyond our control. It's beyond words. Yet we need words. We need to grasp the essence of what this life is about, we need to find meaning and purpose. We need to do this before it's too late.
Freedom To Roam, live, is a documentary followed by live music enhanced by incredible slow-moving visuals. The documentary is beautifully shot, sensitively directed and works as a catalyst to see things differently – whether that be as a human in relation to animals, the natural world, each other and oneself. It is, in part, about waking up. It's also incredibly helpful in guiding us to face some of the tough issues within our zeitgeist.
The music is startling in both its composition and performance. Recorded impeccably at the famous Rockfield Studios, when played live takes on a completely new level of power and beauty. Each distinct phase of its performance a journey leading to another chapter. Sometimes interlinked, sometimes with a striking silence in between. The visuals make the whole thing complete, the layers of which moving almost too slow to be perceptible, but when you look at these master musicians and back again toward the screen above them you see the changes as clear as day. Each moment is new.
Much has already been written about the musicians on the stage, who became my friends during this tour. Eliza Marshall, Dónal Rogers, Catrin Finch, Jackie Shave, Kuljit Bhamra, Bert Irivine. Each night was different. Not only in terms of the energy of the performance but also in how they sounded combined. At Bury St Edmunds they were nicely locked in, but there was a slight hint of tentativeness. Aberystwyth was more flowing. Manchester was definitely fiery. Leeds soft and loving. Bristol ecstatic.
Each audience really loved this. They told me at the merch stand how it had moved them (sometimes to tears), or how it had been their first live show in over two years, or even how far they'd travelled to witness this. Being part of this was/is a huge privilege.
Eliza's project – a true gift to a troubled world.
To book Freedom To Roam or Eliza Marshall solo for a live show, please contact us here.