A new name, a new single, a new project.
After three years of writing, arranging and performing together, folk duo Julu & Heg are stepping away from using their own names as their musical title. From Friday 19th March they will be known as Suthering.  
Julu Irvine and Heg Brignall, who are known for turning female characters of the folk canon from helpless victims into heroines fully in charge of their destinies, recently took part in the ACE funded mentoring programme, The Mentors . This initiative was led by English Folk Expo's Terry O'Brien, alongside other music industry experts.
"The mentoring experience was invaluable" says Julu "and the first feedback we got was that 'Julu & Heg' was simply not memorable enough. We'd realised this before, many times, but had not known what to do about it."
The current lack of live gigs, and a big confidence boost from this mentoring, offered them the perfect opportunity to revisit their identity, to ensure it reflects their ethics and ethos as people and as musicians, and therefore find a name which truly represents them.
A few mood boards and several discussions later they landed on Suthering. "We both love this word!" says Heg. "It means 'the noise of the wind through the leaves or under a bird's wings.'"  They discovered the word in Robert Macfarlane's book, Landmarks, which references John Clare's poem The Autumn Wind:
The Autumn's wind on suthering wings
Plays round the oak tree strong
And through the hawthorn hedges sings
The year's departing song
Next step was to work with Gillian at LeftBridge Design to bring their thoughts together and create a logo to communicate all that they stand for: feminine strength, balance and flow, along with a connection to nature. At the heart of Suthering's sound are their strong harmonies, carefully crafted to ensure that neither voice is seen as the lead, but that both parts weave equally in their distinctive way – therefore duality and flow also felt an important part of the new message.
And so their new logo was born.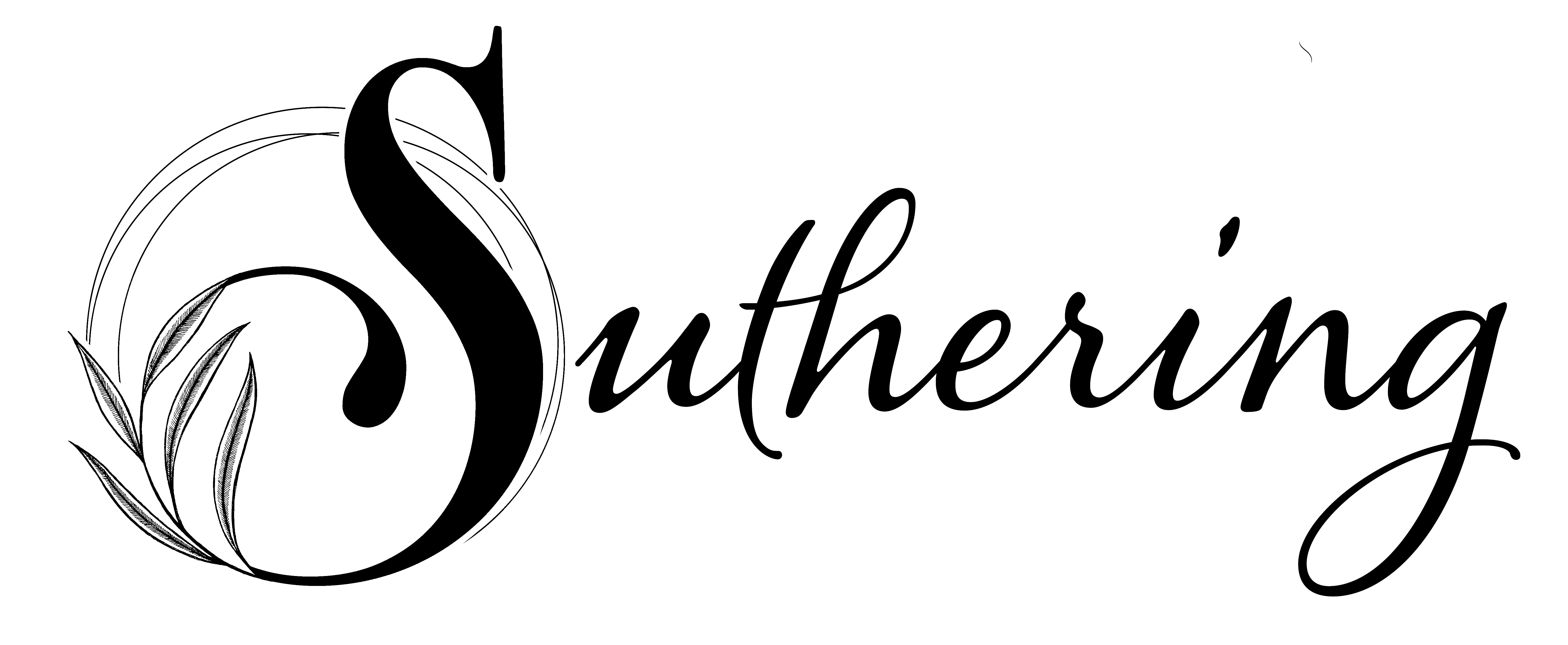 "This whole process has given us a better sense of who we are and how unique the sum of all our parts makes us – we are composers, choir leaders, teachers, arrangers and songwriters. We feel ready now to play to our strengths, and are relaunching as Suthering, with confidence!"
So what's next for the duo? A new album is on the horizon later this year (recorded with Lukas Drinkwater) and they are currently in the process of orchestrating an exciting, all female, collaboration, a project giving voice to the forgotten heroines of Dartmoor – Other Things Rhyme.
Gather – a single from the album – will be released on April 2nd on all the usual digital platforms, and available in physical form via bandcamp.
"Delicate, harmonious and thoroughly English, Suthering is a welcome arrival on the vibrant English folk scene." – Terry O'Brien, English Folk Expo.