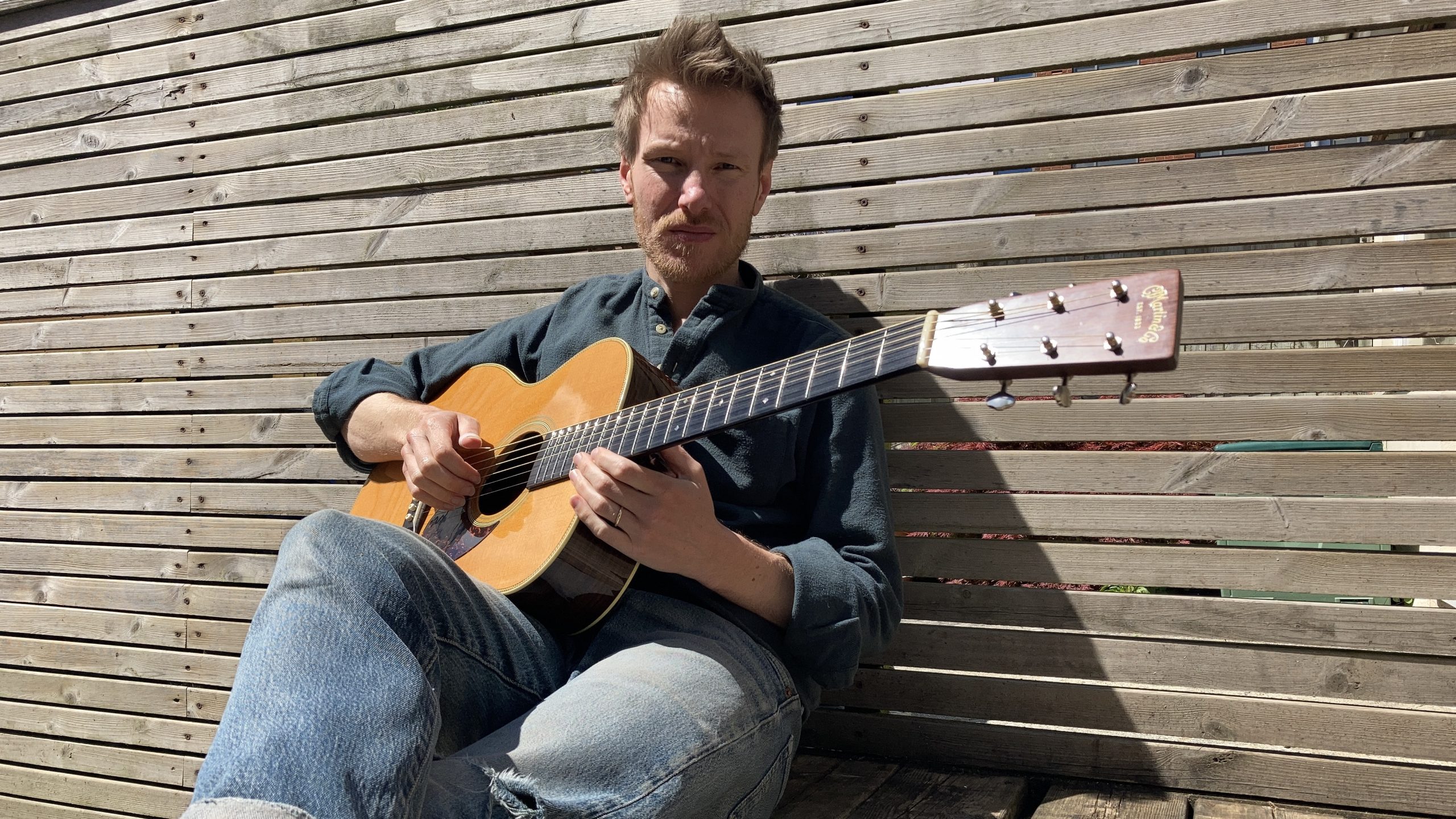 Ben Morgan-Brown's album of solo guitar instrumentals, Moment, has just hit the milestone of 45,000 streams on Spotify!
Described as containing "extraordinary guitar virtuosity"  by BBC Music Introducing, "seriously confident playing chops" by Fresh On The Net, and "great playing and tone" by Collings Guitars, the album was recorded in a single afternoon in January 2021 and released in March. 
The album's combination of relaxed vibe and melodic guitar playing has caught the ear of several playlist curators, resulting in listeners from across the globe enjoying Ben's music.
The way in which the album has been embraced has surprised Ben, particularly as he didn't even intend to record an album when he sat down that afternoon to test out a new microphone:
"I just had one of those lucky days – my guitar stayed in tune, my playing was relaxed but focussed, the telephone or the doorbell didn't ring! I listened back to the half-hour or so of playing and thought 'this is pretty good actually – I'm going to put it out there!"
As a fan of players such as Bert Jansch, Toby Hay, William Tyler, and Gwenifer Raymond, instrumental pieces have always been part of Ben's repertoire but, in recent months, the time away from performances has allowed him to consider the future direction of his music. With the success of Moment, it seems clear that there is an audience for his instrumental compositions, and Ben already has a new album of tunes written and ready to record, exploring what he calls 'English Pastoral folk & blues guitar'
"English pastoral was a term applied to composers such as Vaughn WiIlliams and Gustav Holst, who were looking towards English folk song and the countryside and traditions for inspiration," Ben explains.
"The steel string acoustic guitar as we know it is an American instrument, and lots of solo acoustic instrumental music is categorised as 'American Primitive' due to the influence of John Fahey, but I really don't feel connected to that as a definition of my music – I'm inspired by folk & blues guitarists from across the world for sure, and I recognise that lineage and tradition, but my biggest inspiration is the Devon countryside and wildlife that surrounds my home town of Exeter – well, that and my dog of course!"
With several festival appearances scheduled for the summer, Ben will be performing music from Moment and his new compositions live for the first time over the coming months, whilst the album continues to introduce him to fans via its building streaming success.
"I'm so happy at how it's been received – I've always been wary of my instrumental music not being accepted by audiences, but to get such a positive reaction has really spurred me on to create more and trust my instincts" 
Moment is available to stream and purchase from all online services, but if you want to support Ben directly (and get the best quality files possible too) then you can download the album from his Bandcamp page HERE
Alternatively join the thousands already streaming his album on Spotify HERE 
For more information on Ben Morgan-Brown head to his website www.benmorganbrown.co.uk or find him at @benmorganbrown across socials.
Watch Ben perform Bat from Moment, and new tune Down by the Great River Ouse for MIDI TV Acoustica here: