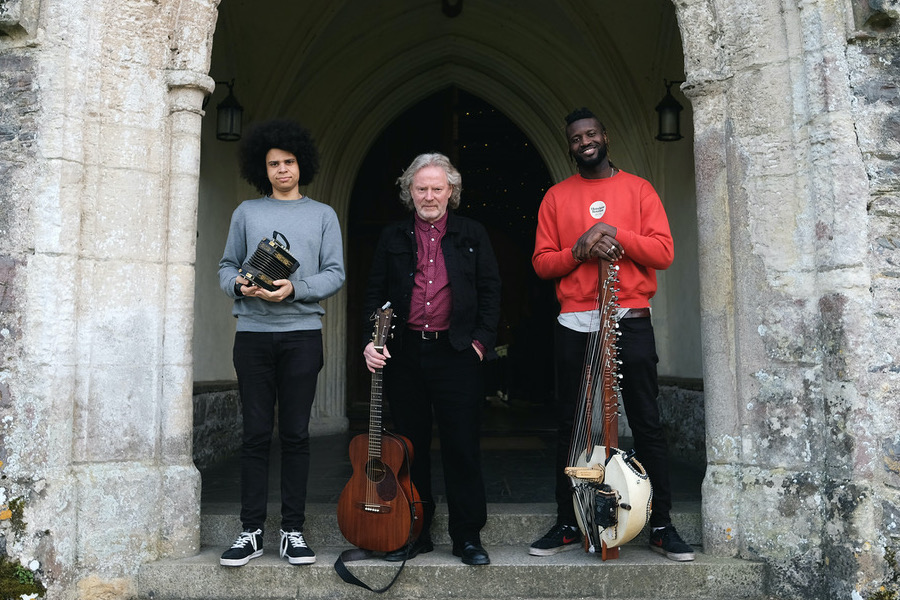 Reg Meuross song cycle about the Transatlantic Slave Trade
"If ever there was evidence that music can be used to speak truth to power, then this album will in time sit as testament to that fact" Ifi Umoren – FATEA
Reg Meuross's belief that folk songs provide a rapid and accessible route into history and its current relevance stood him in good stead when it came to tackling the history of the transatlantic slave trade in story and song. He unearthed both incredible tales and uncomfortable truths – now brought fully to life with this stunning song cycle.
Featuring the sparkling playing of kora master Suntou Susso and concertina wizard Cohen Braithwaite-Kilcoyne alongside narration on the historical background to each song, Stolen From God was previewed during 2022's Black History Month. With vocals from all three musicians, alongside incredible instrumentation, it has received a tremendous reception at shows across the country.
"…never has he made a more important or more deeply considered and researched album" 
Iain Anderson, BBC Radio Scotland
"From a British man of colour, a personal thanks must go to Reg Meuross and his team for taking on this subject matter. It is clear that a great deal of thought and care has gone into this project and that should be applauded"
Ifi Umoren – FATEA
"An album which both moves and challenges the listener and a reminder that with the current government and media attacks on Black Lives Matter we are still having to fight the ideology which gave rise to the trade depicted in these songs." 
The Morning Star ★★★★★
"… in Stolen From God, he has unquestionably written his masterpiece in a song cycle that turns an unflinching eye on the toxic legacy of the transatlantic slave trade, especially in his home in the South West of England. Shocked by his realisation of his ignorance of British Black History, of the Empire and how so many of the nation's grand estates and lauded figures were tainted by the stain of slavery that had served as the foundation for their wealth and public acclaim."
FRUK
"Reg Meuros has written a masterpiece and the musicians working with him on this are simply amazing. He couldn't have made a better choice." 
Mike Harding
"A stunning and important work of historical research set to some of the best folk tunes you'll hear this year" 
Americana UK
"Stolen from God, a new song cycle from Reg Meuross, marks the culmination of four years digging into the hellish history of the Atlantic Slave Trade" 
TradFolk
Festivals booked: Shrewsbury, Whitby Folk Week, Sidmouth, Bridlit, Manchester Folk Festival, Costa Del Folk.