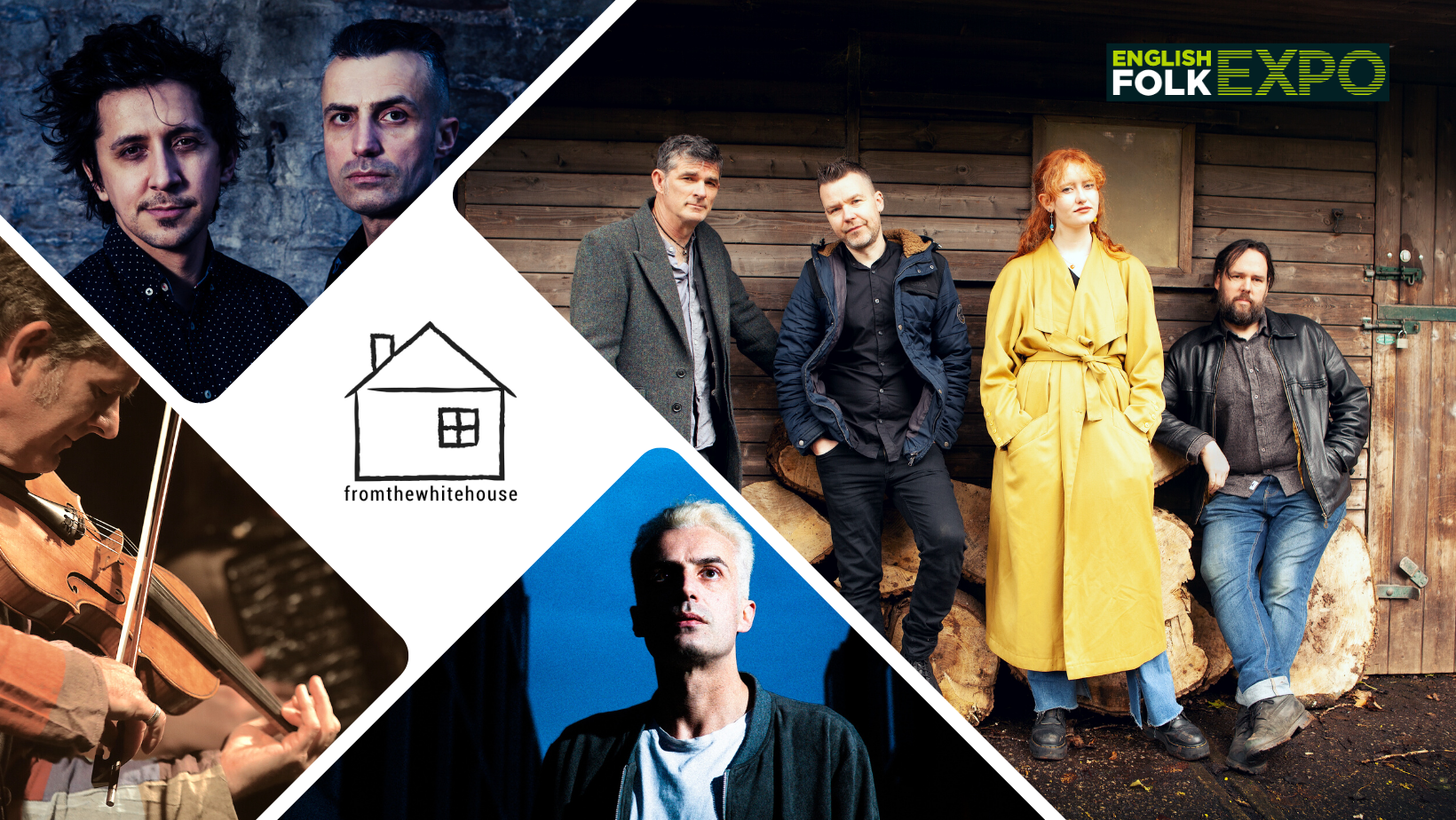 From The Whitehouse Showcase – The Ciderhouse Rebellion; Max ZT & Dan Whitehouse; The Haar; Dan Whitehouse
3.30pm to 5pm Friday 20th October
Hallé at St Michael's
From The Whitehouse presents a stunning live music showcase featuring sets from some of their incredible artists in the perfect listening room – Hallé at St Michael's.
Tea, coffee and locally made brownies will be served.  The bar will also be open.
The Ciderhouse Rebellion
The Ciderhouse Rebellion kick off this showcase with their incredible instrumental skills and groundbreaking approach. The award-winning originators of the wave of folk improvisation that is sweeping the scene, they are the undisputed 'masters of impressionist folk music' (Bright Young Folk).
Profound and eloquent, epic, haunting and dramatic, The Ciderhouse Rebellion sees master musicians Adam Summerhayes and Murray Grainger combine to produce incredible tapestries of sound.
The pair specialise in creating music in the moment, based on traditional tunes or their own compositions – often springing from a single note, key, time signature or emotion. It's this unusually improvisatory focus that is uniquely magical. Their quest is to create music with no conscious thought between conception and playing – always searching for the unexpected and the possibility to create a deep sonic narrative that transports the audience.
"Gorgeous stuff"
BBC Radio 3
"Compelling, exciting and utterly original"
Phil Beer (Show of Hands)
"Beautiful"
Songlines
The Haar
We're delighted to announce that The Haar have been added to the line-up, fresh from their debut tour. New on the scene, this exciting band is already being compared to the sensational Lankum. The Haar features four captivating musicians from Ireland and England, each at the pinnacle of their respective fields, whose spontaneity thrives on the trust they put in each other to create a unique and "splendid balance of swirling instrumental magic and beautifully sung narratives" (Folk Radio UK).
Adam Summerhayes (fiddle), Cormac Byrne (bodhrán) and Murray Grainger (accordion) are  acclaimed, high-level improvisers, adept at producing ever-changing, flowing soundscapes, while new-comer, Molly Donnery, lets her inimitable and infectious voice flow, with fragility and power in equal measure – naturally adapting to the contours of the music created in the moment. As the band themselves say about their songs: "We let our imaginations run free with these old favourites" and the result is breathtaking, ambitious and visceral.
Come and discover the extraordinary voice of Molly Donnery with this mesmerising band of world-class musicians.
"Startling, immediate beauty"
Folk Radio UK
"Astonishing, all-out virtuosity"
The New York Times
"Brilliant"
In Tune, BBC Radio 3
"Each performance is uniquely magical in its improvisatory focus"
The Birmingham Press
Max ZT & Dan Whitehouse
A transatlantic collaboration between New York City's MAX ZT, aka the 'Jimi Hendrix of the hammered dulcimer' [NPR], and Black Country/Tokyo singer-songwriter/guitarist DAN WHITEHOUSE (no relation). The pair originally met in 2021 through Global Music Match.
They showcase their debut album 'Ten Steps'. Max's meditative dulcimer and Dan's soothing vocal and spoken-word poetry meld together in a unique masterpiece of tear-stained impressionism.
Tackling subjects as wide-ranging as fatherhood, practising golf swings as a metaphor for life, the way the Japanese sunlight bounces off buildings "like God's graffiti", and the US withdrawal from Afghanistan, Max ZT and Dan Whitehouse's songs shimmer with restless inventiveness and draw you in with their irresistible intimacy.
"extraordinary and beautiful"
FRUK
"A compelling and innovative sound"
ArtsCulture Mag
Dan Whitehouse
Dan presents a taster of his solo tour 'A Night Of Glass'.  The award-winning singer-songwriter continues to renew, reinvent and reimagine – touching listeners with his observations and moving them with his sensitivity and impeccable songwriting.
His 2022 release The Glass Age looks at how our human experience has been altered through the 'glass' of the digital world and has been recognised for capturing a hugely important aspect of our zeitgeist. Dan's Arts Council funded cycle Voices From The Cones tells real-life stories in song about history and community of glassmaking in the Black Country. This album hit the top 20 in the official folk charts and was nominated for FATEA's Innovative Project 2022 award.
In April 2023 Dan released his 7th record – an acoustic sequel to The Glass Age. Reflections on The Glass Age presents the same songs stripped-back, in emotional and vulnerable performances, accompanying himself on acoustic guitar and keyboard.
"Wonderful"
BBC Radio 6 Music
"Dan has an outstanding singing voice, possesses a unique artistic vision and displays songwriting excellence"
Chris Difford
"Subtle and delicate melodies"
The Sunday Times