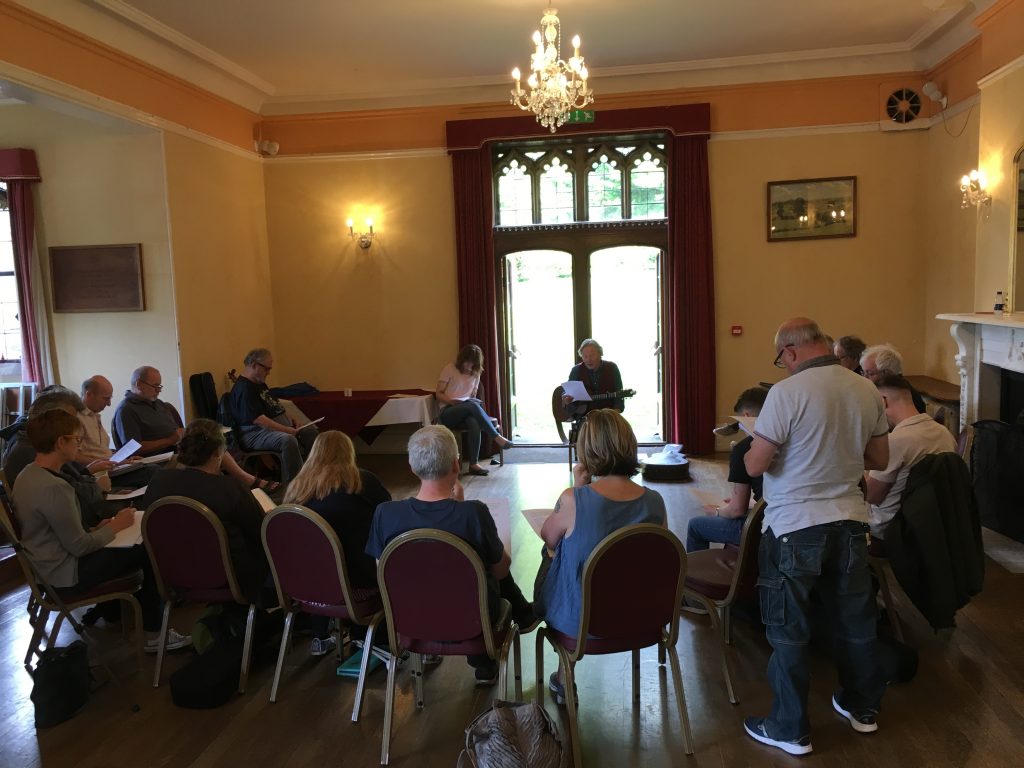 A weekend songwriting workshop with Reg Meuross with a particular focus on opening up your imagination in new ways.
Pennyblack Music: "Calling Meuross a singer-songwriter really doesn't do the man justice. Meuross doesn't write lines of lyrics. He writes short stories then sets them to some of the most captivating melodies you'll ever hear."
Pete Townshend: "Reg's composing and performing is not bound or influenced by trends or fashion or the need to make a display. Reg will be a good man to listen to when the time comes to look at developing your own way to be your own singer-songwriter."
In this weekend workshop in the glorious house and surroundings of Halsway Manor in Somerset, singer-songwriter Reg Meuross and his team will guide and support you in the art of expressing yourself through writing songs, with a particular focus on opening up your imagination in new ways and combining this with what you know from your memories, with what's in your heart and with what you experience around you; how a chance meeting, a face in the crowd, a news article or an odd phrase overheard, or just the sheer beauty and power of words can be the impulse for an act of imagination that becomes a song.
In Reg's own songs, a glimpse across a crowded cafe of two rock 'n roll legend lookalikes became a song about 'Phil Ochs & Elvis Eating Lunch in Morrison's Café'. The realisation that two of his great literary & musical heroes Hank Williams & Dylan Thomas died within a year of each other was the seed that grew into the imaginary meeting of the two poetic giants in a bar in 'Leavin' Alabama.' In 'Counting my Footsteps to You', Reg nurtures his encounter with a sufferer of Dementia into a poignant and heartbreaking tale of a woman clinging desperately to the drifting fragments of her life.
In 'What Would William Morris Say?' Reg explores the contrast of the world of the great Victorian artist, designer and cultural innovator by using his own words in juxtaposition with Reg's stark account of England as it is today. 'For Sophie (This Beautiful Day)' takes you through the powerful and harrowing events of the young anti-Nazi activist's final days in a way that will leave you with visual and emotional impressions that you will carry with you long after the last chord has ended.
Few lyricists write with such imagination. Reg's songs are rich with extraordinary characters and scenarios, laced with socio political commentary, romance, and deep human understanding. Reg explains: "Songwriting is not about being great or better than anyone else or working to a formula or following rules. It is about personal expression, speaking your truth in a way that people can hear you. I can offer you tools to help you dig deep and ways of unlocking words and inspiration."
Reg has given lectures and presentations on songwriting, and has run workshops and courses in the following places: Durham University; La Grande Gennerie, Francel; festivals including Shrewsbury, Beverley, Trowbridge, Ely, Southwell, Weymouth, Towersey, Wath and Wombwell; London Song Company reatreats and masterclasses; several English schools (ages 9-16); West Coast Songwriters in California; Kerrville Folk Festival Texas, and Uncle Calvins Coffee House Series in Texas.
www.regmeuross.com
Comments from past workshops:
"Reg you have so inspired me!"
"I love the way you showed us how to paint pictures with words"
"You really opened my eyes to different ways of writing songs"
"There's a subtleness to his approach that means what he says sinks in much better than were he to appear to be lecturing a class. Before you know it, you've got a notebook and head full of ideas for your songwriting that would have seemed fanciful that same morning."
"I went home with renewed enthusiasm for the art/craft of songwriting, and with more direction and focus, I hope, to what I'm doing."
Category: Songwriting