Suthering & The Last Inklings: Double Headline Concert @ The Beehive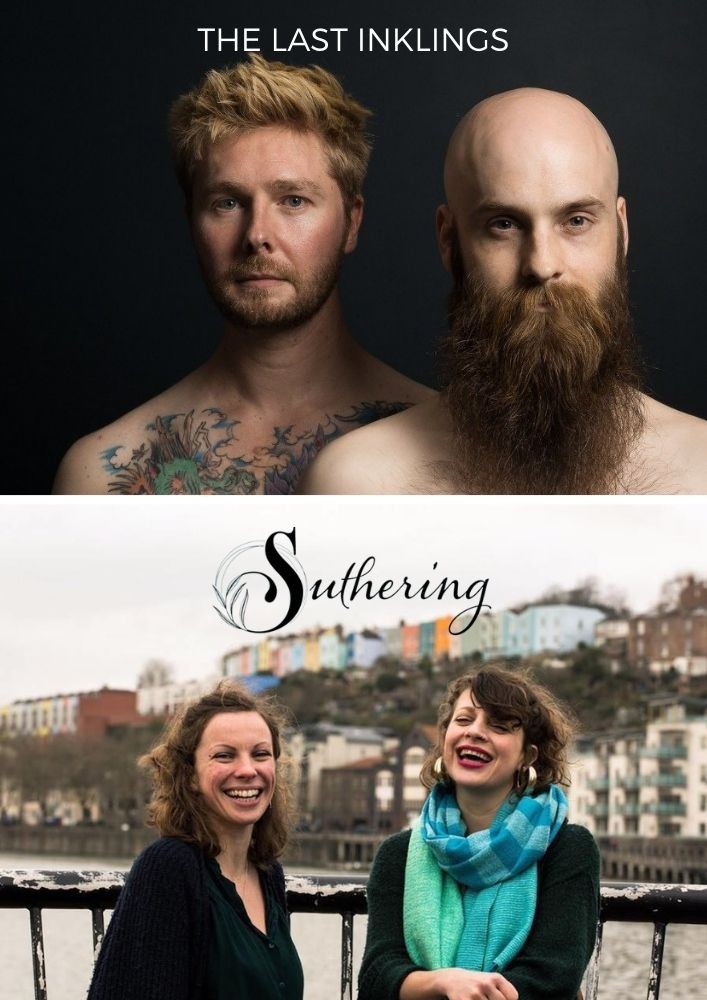 The Last Inklings
'It's hard to believe there will be a better debut album this year' – Folk Radio UK
'Beguiling…exquisitely crafted and endlessly inventive' – Morning Star
The Last Inklings are Leonardo MacKenzie and David Hoyland, both accomplished multi-instrumentalists with a solid folk background. The band's innovative sound crosses genres, centred around cello, mandolin and vocal harmony, layered with guitar, piano, strings, synths and percussion. With vibrant backstories and creative musicianship, their songs have a modern flavour that is rich with imagery and narrative, exploring at their core what it is to be human.
Their name is a nod to the mid 20th century literary group which included Tolkein and CS Lewis, although their inspiration is drawn from wider sources than just these authors, ranging from Carl Jung to Terry Pratchett. Thoughtful depth is handled with a light touch, balanced with playfulness, metaphor and humour. Musically their influences are equally diverse, including artists such as Moulettes, Punch Brothers, and the cinematic soundscapes of composers like Max Richter to the traditional songs and tunes of the British Isles.
'Just beautiful' – BBC Introducing
'Fascinating … There is nothing around that sounds quite like these guys' – folking.com
Check out the artist website here
Suthering
Suthering combines the musical talents of Julu Irvine and Heg Brignall. A couple in life and in music, the duo have taken the folk scene by storm with their unusual and fresh approach to folk. Julu and Heg champion female characters, creating new narratives for women and unearthing the female heroines of folk.
What sets them apart is their wonderful chemistry and charisma on stage, natural humour and two beautifully matched voices. With an unusual mix of cascading, dramatic piano; intricate, fingerstyle guitar; flute, whistles and harmonium, Julu and Heg bring an exciting take on folk storytelling with their evocative and distinctive sound.
'Joyful, life-affirming and even a bit kick-ass feminist' – The Blackbird Collective
'Excellent musicians, beautiful harmonies and a fresh approach to traditional music' – Tony Birch, FATEA Magazine
'Suthering brings together a joyous blending of voices and musical talents of Julu Irvine and Heg Brignall. Delicate, harmonious and thoroughly English, Suthering is a welcome arrival on the vibrant English folk scene.' – Terry O'Brien, Folk Expo
"harmonies as crisp as a winter's day" – PRSD
"Two excellent singers." – Genevieve Tudor, Genevieve Tudor's Sunday Folk, BBC
Artist website can be found here
Tickets £15 General Admission
All tickets include £1 booking fee per ticket
Accessible seating available by contacting the Box Office