Suthering @ Dulcimer Bar – with special guest Jon Loomes
25 October 2022 @ 7:30 pm
£10 – £12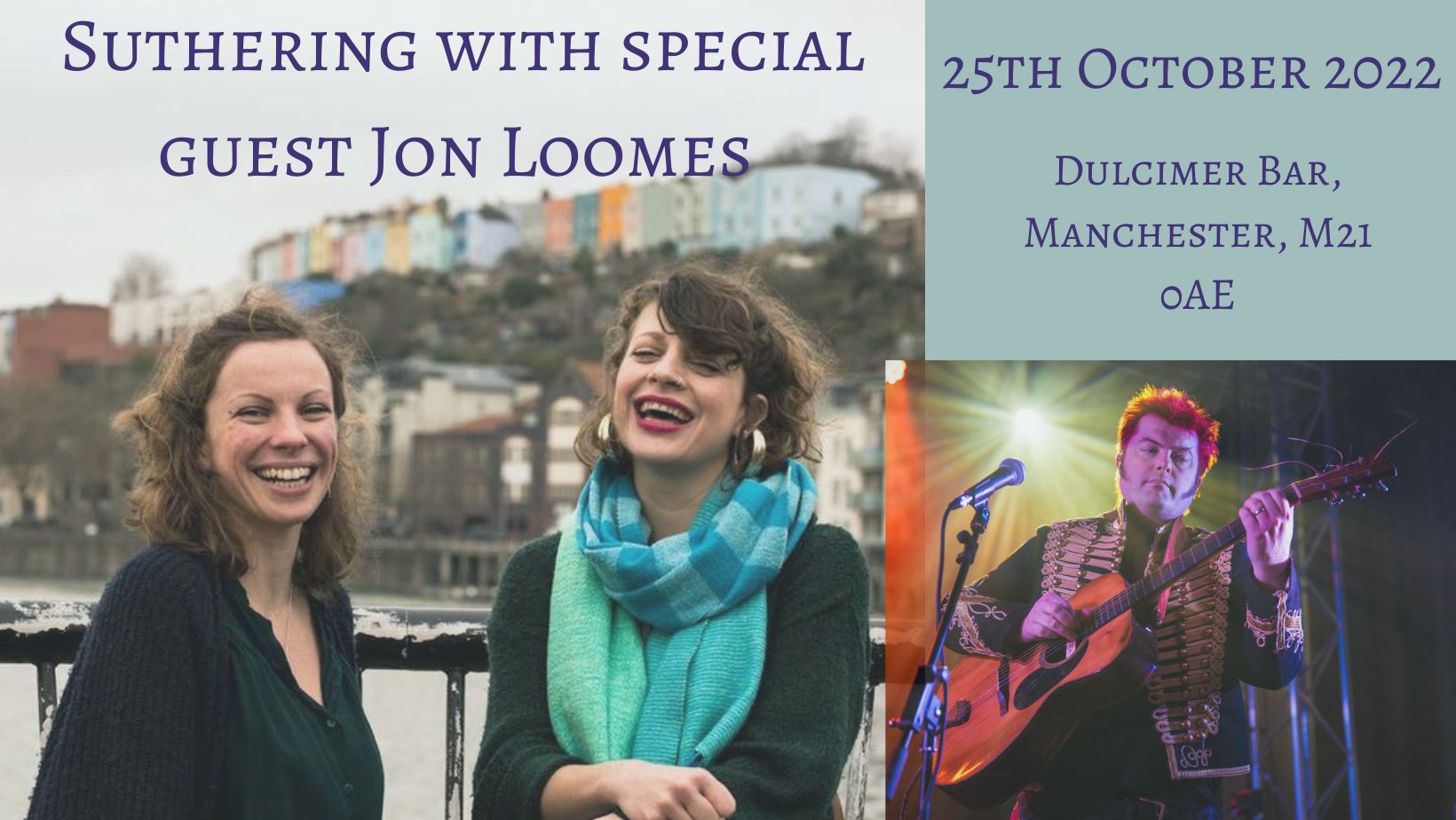 An evening of beautiful folk music in Manchester with Devon based folk duo, Suthering & special guest, Jon Loomes.
Suthering: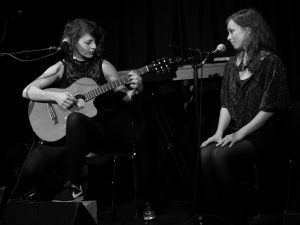 "Suthering brings together a joyous blending of voices and musical talents of Julu Irvine and Heg Brignall. Delicate, harmonious and thoroughly English, Suthering is a welcome arrival on the vibrant English folk scene." – Terry O'Brien, Folk Expo
Suthering meaning "the sound of the wind through the trees or wind under a bird's wing" combines the musical talents of Julu Irvine and Heg Brignall. A couple in life and in music, the duo have taken the folk scene by storm with their unusual and fresh approach to folk. Julu and Heg are true story-tellers who champion female characters, creating new narratives for women and unearthing the heroines of folk.
What sets them apart is their wonderful chemistry and charisma on stage, natural humour and two beautifully matched voices. With an unusual mix of cascading, dramatic piano; intricate, fingerstyle guitar; flute, whistles and harmonium, Julu and Heg bring an exciting take on folk storytelling with their evocative and distinctive sound.
What drew them together as songwriters was their shared love of collecting stories and turning them into songs; both have written about their grandparents and stories their family members have shared. Julu and Heg combine their powerful song-writing, weaving stories and crisp vocal harmonies to create a beautiful, pure sound.
"Excellent musicians, beautiful harmonies and a fresh approach to traditional music" – Tony Birch, FATEA Magazine
Jon Loomes: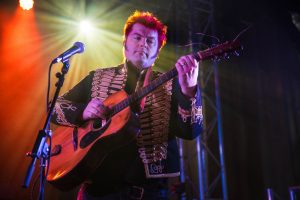 "A superb traditional singer." – Broadstairs Museum Music Club
Jon Loomes is an English traditional singer and guitarist.
A highly experienced performer, Jon is well known for his work with BBC Folk Award Nominees Pilgrims' Way and notorious Belgian surrealists Heretique.
Passionate about folksong, his solo album 'Fearful Symmetry' quickly became a cult classic. As a multi-instrumentalist and recording engineer, he has featured on many recordings, and has worked with some of the biggest names in British folk music.
As a soloist, he has appeared at all the major British folk festivals and played at folk clubs and concert venues nationally and internationally.
Drawing from the English folk song tradition, he engages with audiences, encouraging them to join in with a chorus, before hitting them between the eyes with an energised delivery of an epic ballad.
Recognised primarily for his accomplishments as a guitarist, Jon weaves magical, sensitive accompaniments in the finest traditions of Martin Carthy and Nic Jones.
"A splendid singer and an exceptional guitar player." – Roots and Rhythm
"A genius." – Zoe Ball, BBC
MANCHESTER: Dulcimer Bar
Tuesday 25th October, 2022
Door time: 7:00pm, Start time: 7:30pm
18 and over
Ticket Price: £10 (plus booking fee) in advance/ £12 on the door.