Stolen From God Slave trade song cycle from Reg Meuross with Suntou Susso and Cohen Braithwaite-Kilcoyne
April 2 @ 7:00 pm

-

10:30 pm

£16.00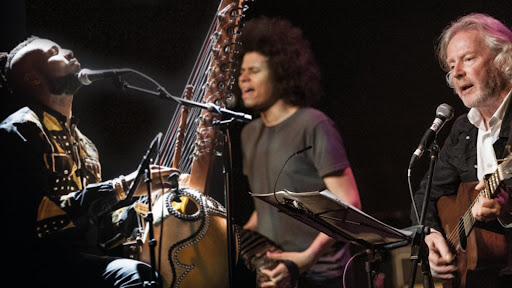 Reg Meuross presents his stunning song cycle Stolen From God, with the sparkling playing of kora master Suntou Susso and concertina wizard Cohen Braithwaite-Kilcoyne.
The live show, which features a narration on the historical background to each song, was previewed during last year's Black History Month. Featuring vocals from all three musicians, alongside incredible instrumentation, it received a tremendous reception at shows in Bristol, London and Manchester.
"Reg Meuross is the ideal song writer to unpick the South West's complex Slavery story. A subject that needs his clear sighted way with words…single of the year" – Tim Martin, FATEA.
Reg Meuross's belief that folk songs provide a rapid and accessible route into history and its current relevance stood him in good stead when it came to tackling the history of the transatlantic slave trade in story and song. He unearthed both incredible tales and uncomfortable truths – now brought fully to life with this enlightening live performance.
Reg explains: "I realised how little I knew about Black History in Britain; how little I'd been taught growing up; how little I knew of Empire and how it was made; how little I knew of the grand mansions and sprawling estates, and the enormous handed-down wealth, and the great men and women of history who symbolised greatness and colonial and racial superiority and to a large extent how their greatness was achieved, and at what cost to others. It feels especially timely to take this new show on the road and share these stories with others."
Cohen added: "Stolen From God brings attention to a seriously neglected era of British history with songs that are genuinely thought-provoking. These new stories need to be heard".
"Combining narrative and song that sits comfortably (or 'uncomfortably' given the subject matter) with Peter Bellamy's The Transports" – At The Barrier
"Informative, moving and eloquent and the songs evocative and powerful" – audience feedback
"A difficult subject covered with care and compassion and a story that needed telling" – audience feedback
The first track from the album, Good Morning Mr Colston was released in December 2022, with the album release set for Spring 2023.