Narrative Songwriting with Dan Whitehouse – Workshop
14 March 2021 @ 10:30 am

-

6:00 pm

£35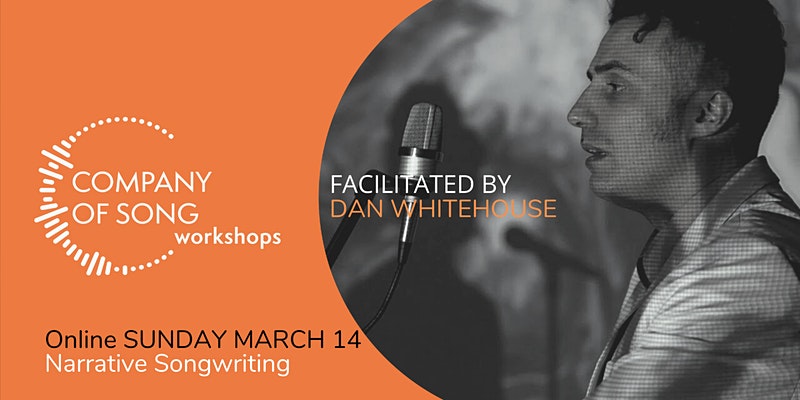 NARRATIVE SONGWRITING – Try a new technique for telling your stories in song. A Company of Song Workshop – facilitated by Dan Whitehouse
Narrative Songwriting. Try a new technique for telling your stories in song.
Dan says: "A useful technique to use when you have a song idea that your instinct tells you is worthy, but your brain won't allow you to complete! This approach may help you to break through the poetic barrier and actually write about what you want to write about. The story itself is stronger than the words that tell it."
You will find it useful when composing 'story songs' but also it will show you a way of expanding the choice of words and lines at your disposal for 'direct message' songs.
The workshop will start with an introductory session, demo and Q&A with Dan Whitehouse. Dan will talk about his narrative approach to telling stories in song. You will have a chance to introduce yourself and Dan will set you up for your writing experience.
Dan Whitehouse "… a master craftsman and wordsmith at the peak of his prowess." Mike Davies, FRUK
Timings
10.15 Meet on Zoom informal greeting
11:30 am to 12:00 pm Introduction, Q&A and demo with Dan Whitehouse
12:00 to 4.00 pm Writing time
4.30 to 6.00 pm Group sharing and feedback with Dan
Attending this workshop will allow you access to a private Facebook group where you can continue to share songs and experience with each other
In advance of the workshop we will send you instructions for how to prepare for the day.
Maximum 14 participants
A talented songwriter and storyteller, Dan Whitehouse was born in Wolverhampton and has spent a lifetime in Britain's industrial heartland with a brief detour along the hippie trail when his parents decided to board the magic bus to Katmandu and San Francisco in the 1970s, and then to London as an eighteen year old, his prodigious talent making him a sought after guitarist.
For Dan the songwriting is key – his observational lyrics and imagined stories are soundtracked by an original take on modern folk /Americana – Black Country Soul.
Political stories of displacement and refuge and lyrics dealing with anxiety and mental health, sit beside more personal reflections and universal themes of family and love, loss and compassion.
This year Dan released a double album – Dreamland Tomorrow
"Deliberately experimental, nothing short of beautiful" RnR magazine
"Urgent, pulsing with creativity and striking out into the unknown."Liverpool Sound & Vision
"A golden nugget, his best work yet" Music Republic Magazine