Double Headline Folk Concert: Suthering and Harbottle & Jonas @ Brixham Theatre
January 29 @ 7:30 pm
£10 – £12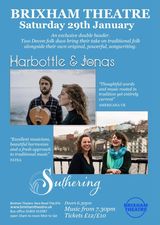 An exclusive double headline concert of two Devon based folk duos: Suthering and Harbottle & Jonas.
Both duos are partners in life as well as music and combine their take on traditional folk with their own original, powerful songwriting. This promises to be an exciting evening of stories performed through harmonious song and skillful musicianship.
Suthering:
"Excellent musicians, beautiful harmonies and a fresh approach to traditional music" – Tony Birch, FATEA Magazine
Suthering (Julu Irvine and Heg Brignall) are true story-tellers who champion female characters, creating new narratives for women and unearthing the female heroines of folk. They will be performing songs from their forthcoming debut album 'If We Turn Away', which explores themes of community, connection, environment and conscience; each song is carefully crafted and arranged, telling tales of struggle and triumph against all odds.
Harbottle & Jonas:
'Stunning songwriting and heart-rending arrangements' – Americana UK
Dave and Freya have developed a distinct and compelling signature sound; people, places and events are brought to life through their intimate, timeless songs and music. They will be performing songs from their wide repertoire including from their most recent album, The Beacon, which went straight into the Folk Album Charts. The Beacon's sound is both intimate and full of wide-eyed joy at the world around us. It reminds us to remain humble in the face of nature, to find comfort in the warmth of home, and stands as a signal of hope. 
https://www.harbottleandjonas.com/ 
Tickets available here: Suthering with Harbottle and Jonas at Brixham Theatre event tickets from TicketSource