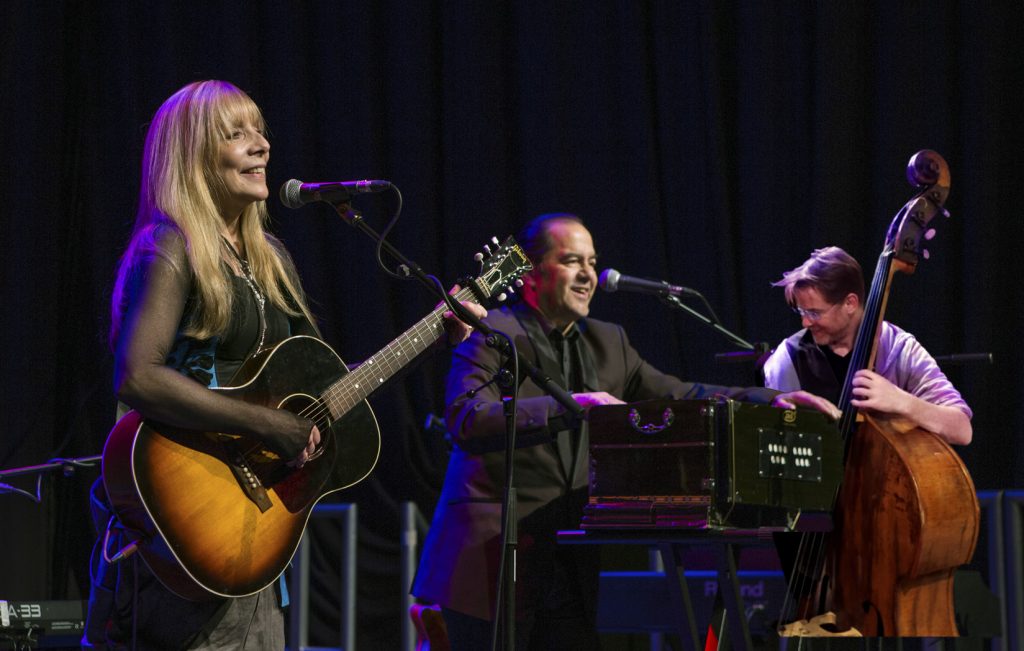 A very special evening and a rare trio gig as legendary singer-songwriter Charlie Dore returns to Oxford for the first time since 2013. Charlie will be joined by long-time school friend and collaborator, the multi-instrumental Julian Littman (who has played in Steeleye Span for 12 year) and virtuoso double bass, piano and cello player Gareth Huw Davies, who has worked with everyone from Chrissie Hynde to Blur's Graham Coxon.
Charlie will be sharing her double award-winning album Dark Matter with her Oxford fans and she's looking forward to catching up with them for a fast moving multi-instrumental evening of 'intriguingly other' eclectic folk, bursting with earworms and crunchy lyrics. The three will also perform favourites from Charlie's past six albums and the occasional original acoustic version of some of the hits she has written for others, including George Harrison and Jimmy Nail. And she still reinvents versions of her own worldwide hit, Pilot of the Airwaves – always a crowd pleaser! Expect to have your heart broken and laugh your socks off.
"I'm very pleased to be returning to Oxford courtesy of our friends at Holywell Music & Folk," says Charlie. "It's been nearly six years since we last played this beautiful city and a lot of music, both live and recorded has flowed under the bridge since then. Geoff Smith is a loyal supporter and we're particularly looking forward to playing our return gig for him in the wonderfully warm atmosphere of the Quaker Meeting House, which has wall-to-wall wood panelling – an acoustic gift for any musician"
Geoff says. "We are delighted to host Charlie. She is a hugely talented songwriter who truly engages with her listeners, sharing wonderful stories and anecdotes about each song. The evening promises to be an intimate affair with an appreciative audience who will no doubt be singing along to many of the songs."
Support is from acoustic guitarist Charlie Reston.
Saturday 18th May 2019 Doors 7.00pm
Quaker Music House, 43 St Giles, Oxford OX1 3LW
Tickets £14 (plus booking fee) in advance from Truck Store in Cowley Road or £17 on the door
More details www.holywellmusicandfolk.co.uk and charliedore.com
"A gift for melody, brave, poignant, entertaining, original" Guardian ★★★★
"Dark Matter…an amazingly astute, moving, intelligent and connected songwriter…a voice like Kate McGarrigle meets Dory Previn. Wonderful" Mike Harding.
"Beautiful, existential, metaphysical and intruigingly other. Zen folk I want to call it. Charlie Dore's 'Time Out of Mind'" Ricky Ross, BBC Scotland
http://www.bbc.co.uk/programmes/p05frzvd
Category: Latest News